PASSPORT RENEWAL PROCESS ONLINE IN INDIA
One must possess a passport to travel to foreign countries, regardless of whether it is a solo journey, a family trip, or for work or medical reasons. It is a necessary item that one should possess to gain entry into another country.
A passport is not a definite assurance of gaining entry into a foreign country, but it is an essential requirement for traveling outside of one's home country.
Additionally, a passport is useful for providing confirmation of one's identity, age, and residence, even outside of travel situations. This piece focuses on delving further into the topic of renewing a passport and exploring its different components.
In India, having a valid passport is important when it comes to international travel. It serves as a legal document indicating the individual's nationality and identity. Additionally, it ensures that the person is allowed entry and exit from the country they are visiting. The Indian government mandates that passports be renewed every 10 years for adults and every five years for minors to ensure continued accuracy and up-to-date information.
An Indian passport remains valid for a period of 10 years after it has been issued.
The number of pages in an Indian passport can vary based on the preference of the owner. Typically, citizens of India have three options to choose from when applying for a passport. These options may include a passport with either 36 or 60 pages.
Regular Passport
Diplomatic Passport
Official Passport
In order to continue receiving the advantages of holding a passport, it is important for the individual to ensure that the passport is still valid and has not yet expired.
expiration date or within a certain time frame after the expiration date at a passport office. It is important to renew a passport in a timely manner to avoid any travel inconveniences that may arise due to a passport that is expired or about to expire. The renewal process may include updating personal information, submitting new passport photos, and paying applicable fees. Once the renewal application is processed, the passport holder will receive a new passport with a renewed validity period. Passport Seva The online gateway serves as a convenient platform for Indian citizens to efficiently complete any necessary procedures related to their passport application.
The papers needed for the process of renewing.
To apply for a passport, one must submit specific documents to the Passport Seva in addition to filling out an application form. Using the Document Advisor on the Passport Seva Portal, individuals can determine which vital documents they will need for passport renewal. To access the necessary documents, the user must select the renewal option. The essential documents for passport renewal include:
Original old Passport
Copies of the initial two pages and the final two pages of the passport, which have been self-certified.
A copy of the page containing any observations made by the authority issuing the passport can be provided by the individual themselves.
A copy of the ECR/ Non-ECR page, signed by oneself.
Documents that demonstrate the reason for issuing a Short Validity Passport (SVP) have been eliminated.
A copy of the extension page of the Short Validity Passport (SVP) must be included and it must be self-attested.
A complete handbook on renewing passports through the online process.
If an individual's passport has expired, they must obtain a new one. Passport Seva provides people with the option of applying either online or offline. Thanks to the rapid advancements in technology and connectivity, obtaining a passport has become an easier task.
Online Process
To apply for a passport online, a person must first create an account on the Passport Seva website. After the registration process is complete, the user can easily perform different passport-related tasks.
Passport Login Registration
In order to register on the Passport Seva portal, you must finish the subsequent procedures.
 Step 1:  Visit the official website of  Passport Seva  .
 Step 2:  Click on the  New User? Register Now  tab.
 Step 3:  Passport Office 
 Step 4: 
 Step 5:  Create your  Login ID  and  Password According to the terms and conditions of the website.
 Step 6:  Select the  Hint Question  and  Answer If needed, this will be valuable in case you forget your login information.
 Step 7:  Click on the  Register  icon.
 Step 8:  Now, you will receive an The link required to activate your account has been sent to the email address you provided during registration. Activate your Passport Seva account by clicking on the provided link.
 Step 9:  Your account is now  activated You are now allowed to proceed with the process of renewing your passport application.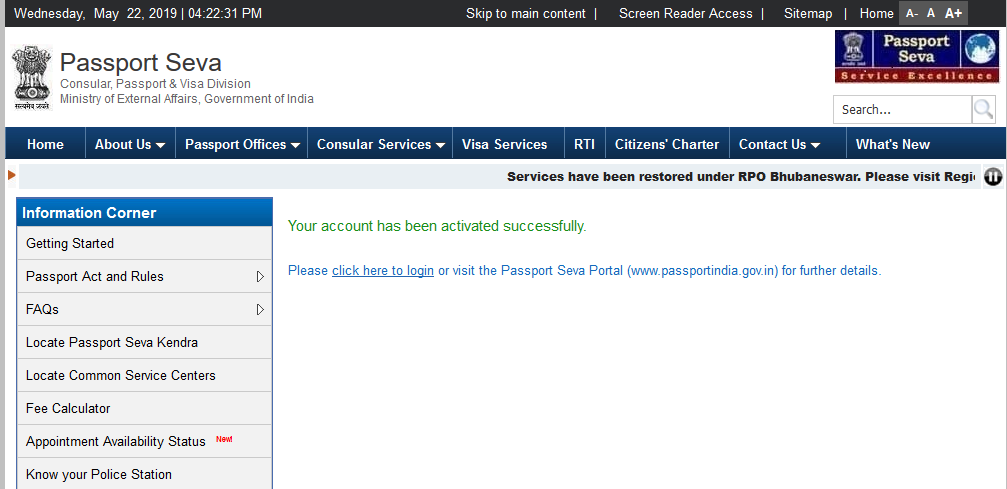 A detailed guide outlining the process of renewing a passport online.
The following instructions outline the necessary procedures for submitting an application to renew your passport through the Passport Seva portal.
 Step 1:  Visit the official website of  Passport Seva  .
 Step 2:  Click on the link  Existing User? Login  icon.
 Step 3:  Now, you must click on the Request a new passport or renew an existing passport. tab.
 Step 4: Afterward, complete the application form that is accessible on the website.
 Note: To complete the application, you'll need to give information such as your spouse's current address and other important details. You'll also need to provide the contact information of two local references who can be contacted for a police check. Once you've entered your city or village, be sure to click "Validate" and save the form. You can then upload the saved file back to the same page where you downloaded it. This will automatically fill in the application form with your provided details. Finally, double-check all your information to make sure there are no errors.
 Step 5: Before submitting the Form, it is important to carefully check all the information you have entered since it won't be possible to make any changes later on. In case of any errors, you might have to begin the process again.
 Step 6:  Click on the option to Check previously stored or sent applications. in order to schedule an appointment.
 Note: To book an appointment at the passport office, you can select the Schedule Appointment tab and choose a suitable time slot. Once you confirm the availability, your appointment will be scheduled at the selected time and place.
 Step 7:  Online payment is  mandatory To schedule an appointment at the Passport Seva Kendra.
 Step 8: Finish the payment procedure using any of the approved payment methods.
 Step 9: If you can't access internet banking and your debit or credit card, you can print an offline challan and pay at any SBI Branch instead. It may take the bank up to 2 days to confirm your payment.
 Step 10: "submit" button to finalize your submission. Print Application Receipt necessary information regarding the transaction. This document is often used as proof of purchase and may be required when returning or exchanging goods. It is important to keep the receipt in a safe place as it may also be necessary for warranty claims or in the event of discrepancies with billing. Application Reference Number  .
Once the appointment has been arranged, the person is required to attend the passport office at the specified date and time. They may bring the text message they received as evidence of the appointment when visiting either the Passport Seva Kendra or passport office.
Make sure that you attend the appointment, otherwise you will need to make a fresh appointment.
Upon arrival at the Kendra, you will be given an assigned group number, which must be indicated on your application form. When your group number is announced, you will need to proceed with your group to begin the application process.
After your request for renewing your passport has been granted, you will receive it at your designated location within a short period of working days.
Online monitoring of your passport renewal application is available using your Passport Login credentials.
Comprehend when the passport requires replacement and when it is time for its restoration.
When a passport's validity has expired, it qualifies for a renewal, but if any of the following circumstances arise, the passport must be reissued.
Lost passport
Expired or about to expire passport
Stolen Passport
Damaged or soiled passports
Exhaustion of pages
Change in personal details
If you renew your passport, the same one will be returned to you with a new Expiry Date. However, if you request a passport reissue, you will be given a completely new passport.
Other Related Guides
Tatkal Passport Rewritten: A Tatkal passport is a crucial legal paper authorized by a government that enables us to journey abroad without encountering any difficulties. Re-issuance of Passport Passport Re-Issuance: To travel to foreign countries, possessing a passport is crucial. The Indian Government, supported by… Passport Address Change The modification of address in a passport is crucial for every individual who plans to journey beyond the borders of their home country. Additionally, a passport serves various other purposes besides identification and authorization for foreign travel. eVisa for India The Indian government has established a new electronic authorization system called eVisa Application to provide foreigners with official permission to enter India. Passport Seva Previously, obtaining a passport and even a visa was a difficult task. People had to first manually fill out application forms…